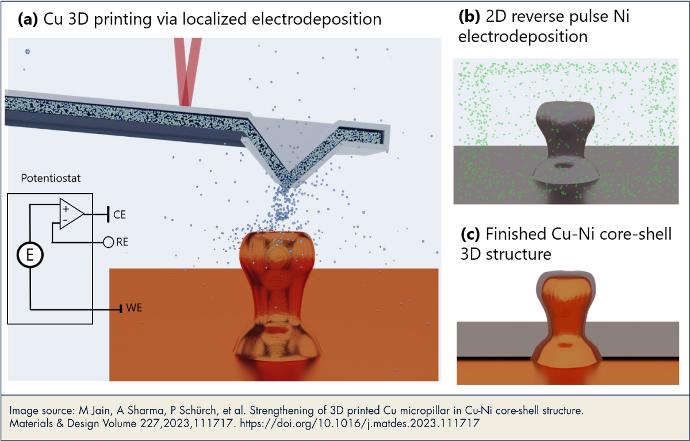 Coating Microscale Copper Structures Gives Remarkable Results
"In this work, we report on the synthesis of Cu (core) - Ni (shell) structures at the micron scale with varying Ni thickness and a detailed investigation of their microstructure and mechanical properties."
Whilst Exaddon's pure copper objects are ideal for use as interconnects, waveguides, and neural electrodes, some applications require structures with higher strength characteristics. What if copper objects were coated with nickel? How would the materials characteristics be?
The paper, published in Materials and Design, is the product of a combined research endeavor between Exaddon and EMPA, the Swiss federal laboratories for materials science and technology. 
The study found an exceptional ~3 fold increase in strength after coating the Cu microstructures with a Ni shell just 250 nm thick (compared to pure Cu). These remarkable results offer an exciting pathway toward creating strong microscale metal structures for future research and real world application.
Investigating the Mechanical Response of Coated Micropillars

Dog-bone shaped copper micropillars were created using Exaddon's CERES technology (localized electrodeposition), before then being coated with nickel via global electrodeposition. 

The micropillars were subject to various mechanical tests and simulations in order to analyze the material microstructure, and how the micropillars responded to mechanical stress.
Micropillar compression at various strain rates up to 500 s−1 was conducted with an in situ nanoindenter from fellow Swiss precision experts Alemnis. TKD and TEM investigations were carried out to further analyze the material microstructure, and finite element simulations to predict the composite structure's maximum strength and yield strength.
"These structures are intended for real-life applications where they are expected to withstand harsh loading situations like external impact and dynamic loadings such as drops or vibrations. Therefore, the structures were tested at various application-relevant strain rates."
Want to know more? Dive deep into the experimental methods, FE simulations, and other findings:

Read the full paper



Citation:
Manish Jain, Amit Sharma, Patrik Schürch, Nicolo Maria Della Ventura, Wabe W. Koelmans, Xavier Maeder, Jakob Schwiedrzik, Johann Michler. Strengthening of 3D printed Cu micropillar in Cu-Ni core-shell structure. Materials & Design. Volume 227,2023, 111717
https://doi.org/10.1016/j.matdes.2023.111717.
Let's discuss µAM 
for your application