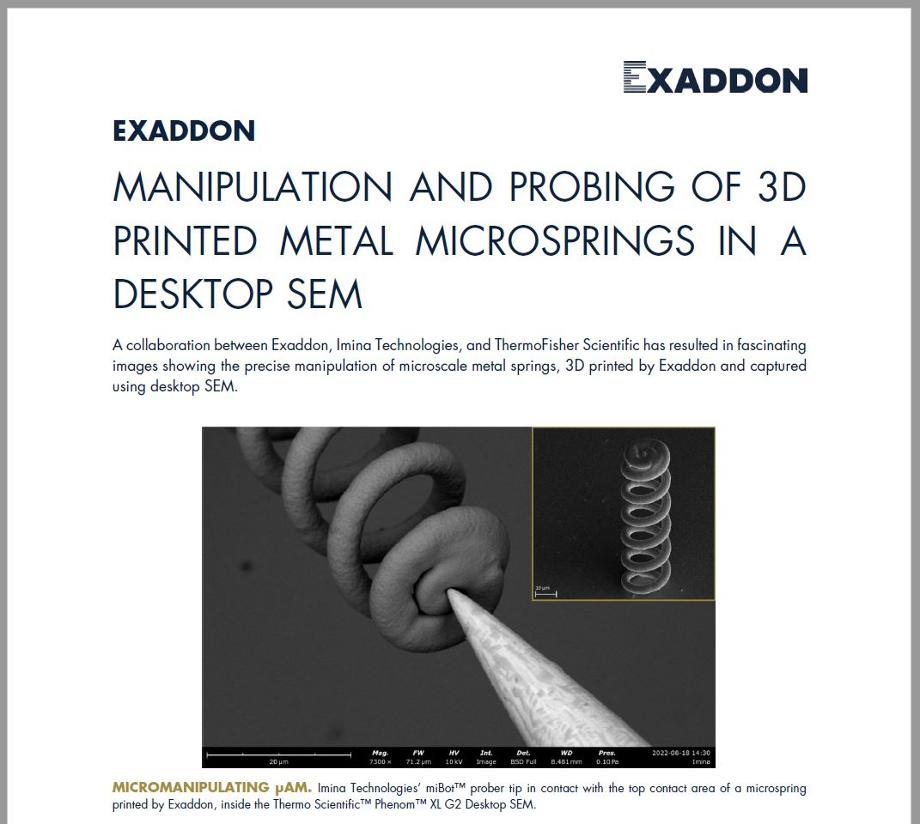 A collaboration between Exaddon, Imina Technologies, and ThermoFisher Scientific has resulted in fascinating images showing the precise manipulation of microscale metal springs, 3D printed by Exaddon and captured using desktop SEM.
The exacting project drew on the expertise of all three companies; high-precision mechanical manipulation by Imina to contact the 15 µm diameter target area of a microscale coil 3D printed by Exaddon, all within one of ThermoFisher's innovative Phenom range of desktop SEM systems to image the process.
For Exaddon, the collaborative project showcases ongoing work to advance the current limits of large-array, fine-pitch probe card testing. The utilization of novel additive micromanufacturing (µAM) techniques is a necessary step to create probe contacting solutions capable of advancing the existing 40 µm pitch limit currently facing the semiconductor industry and providing more flexibility towards a customized probe interface.
The springs or alternative object designs can be printed in arrays, such as for probe card testing, and the spring geometry, number of turns, vertical spacing, and pitch can all be customized individually from object to object. The excellent material properties of our 3D printed copper structures makes them ideally suited for applications where high conductivity and mechanical strength are important, whether probe card testing, micromechanical characterization, or MEMS applications.

Click the image below to download the report:

Questions? Let's discuss µAM
for your application